STEP ONE: START WITH A PROBLEM AND A DESIRE FOR CHANGE
The first step toward transformation is acknowledging that you have a problem in life that is causing unfavorable consequences. It may be challenging, but nothing will change if you don't recognize it.
Here are a few questions that may resonate with you:
How has your life been since your relationship or marriage ended?
Do you feel like your life is spiraling out of control, and you keep repeating the same things that keep you stuck in your anxiety, feelings of worthlessness, anger, and other negative emotions and don't know why?
Have you searched for external things, like alcohol, shopping, food, or exercise to fill the void?
You are not alone!
Are you at a point where you deeply want to change but are terrified of the consequences? But if you dig in a bit, can you ask yourself, "Is my felt need for change as strong or stronger than my fear of change and the desire to remain comfortable?" If it is, you're at a starting point and have the desire for change. What comes next takes a bit of unraveling because the problem or issue you present is covering the one underneath that is keeping you stuck.
When mapping a paradigm, we seek the needs and goals beneath the façade of conscious awareness, for it is the subconscious needs and goals that drive our behavior far more than our explicit ones.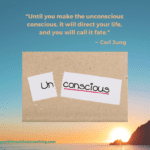 Our subconscious processes take care of our essential life functions and our learned behaviors and habits. In fact, 95% of all our behaviors and reactions happen at the subconscious level.
"Until you make the unconscious conscious, it will direct your life, and you will call it fate." ~ Carl Jung
When we become aware that our subconscious mind is the auto-pilot controlling our life, our conscious thinking can benefit us by becoming more mindful of our choices in what we think, feel, and do.
Identifying and Accepting the Problem
The questions posed above suggest possible presenting problems or issues you may have identified as the source of your pain or discomfort.  Identifying a problem is one thing; accepting it, however, is another. A piece of wisdom imparted to me while I was in rehab being treated for alcoholism or substance abuse disorder was acceptance.
From the Big Book of Alcoholics Anonymous:
"Acceptance is the answer to ALL of my problems today. When I am disturbed, it is because I find some person, place, thing, or situation- some fact of my life unacceptable to me, and I can find no serenity until I accept that person, place, thing, or situation as being exactly the way it is supposed to be at this moment. Nothing, absolutely nothing, happens in God's world by mistake. Until I could accept my alcoholism, I could not stay sober;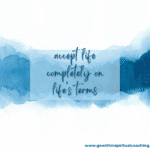 unless I accept my life completely on life's terms, I cannot be happy. I need to concentrate not so much on what needs to be changed in the world as on what needs to be changed in me and in my attitudes."
It is a tall order as your ego wants to stand in the way and "protect" you by leading you away from the problem or issue. When you understand how your paradigm is not serving you, your ego will provide you with all the reasons and justifications to divert your attention to prevent discomfort.
In human psychology, acceptance is a person's consent to the reality of a situation, recognizing a process or condition (often a negative or uncomfortable situation) without attempting to change or protest it.
"We cannot change anything unless we accept it." ~ Carl Jung
The Desire For Change
Pain is a great motivator, and if the pain you are experiencing now is more significant than the perceived discomfort of change, you are ready to begin the transformation process.
But, if you are more comfortable living with your existing problem than taking on something new that requires more pain, you may need assistance to get you there. It is here where I can help deepen your desire for change by asking you what the potential negative consequences would be if you don't change.
And together, we will create a suitable problem statement that feels right and complete. When the need is felt and a strong desire for transformation is in place, you are ready for the next step on your journey.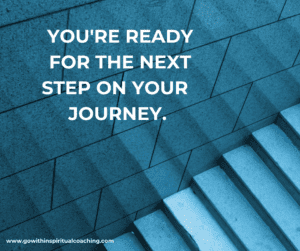 Schedule your free 15-minute assessment today!